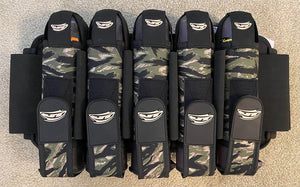 PbRetro exclusive JT Harness! In stock now!
Green Tigerstripe harness with the internal plastic removed so it packs smaller in your bag and stays tighter with tubes removed. Now with the popular banana logo.
The new JT Custom Harness 
keeps your pods secure with 5 straps while still allowing you to get them out quickly. 
Ultra-secure Velcro and stretchable overlapping belt system keeps your pack in place even while diving. 
Holds up to 11 pods at a time. 
Features:
Durable yet light construction 
Securely holds up to 13 pods

5 securely strapped ejection pod holders and 8 additional loops for pods



JT logo TPR release tabs 

Non-slip lumbar pad
Heavy duty stitching
One size fits most
(Pods not included)