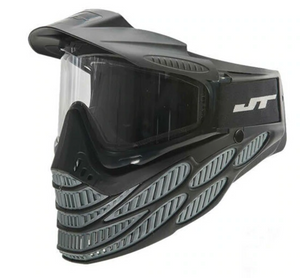 Black with GRAY venting Flex 8. These are uncut with a chin strap, visor, clear thermal lenses. These come built with a clear lens. 
Don't forget to grab the PBRetro exclusive Flex 8 soft ears that make this mask even more comfortable and add more protection. https://paintballretro.com/search?q=flex+8+foam&options%5Bprefix%5D=last
JT's exclusive" dual-fusion" technology has helped us produce a revolutionary exoskeleton that can be found in our Flex-8™ system. This system offers integrated venting on the jaw which has also been strategically designed to encourage deflections and bounces. While the JT Spectra™ Flex-8™ offers a "smaller target" to your opponent than previous Spectra systems, the Flex-8™ goggle still maintains its ability to accept the Vortex II™ fan and other popular JT accessories.

Comes with a removable visor.
F8's are hard plastic, not like the rubber Proflex or even the original Flex 8's from 15 years ago. This version does NOT come with full head protection.