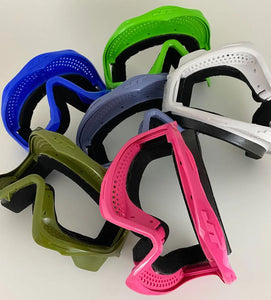 This is a collector pack of 5 different colored Proflex frames. Includes at least one printed frame, a $75 value by itself. No all black frames are included because I think most of you have them and they are the least expensive frames.
Some packs will even come with an unreleased frame. 
The photo will be updated when new frame comes out. Right now the photo still has out of stock frames. Check Paintball Retro's social media for a contest on how to win this pack.
Total value of this package is between $250 and $375. 
All frames fit the Proflex, Proshield, Flex 8, and Proteus. 
No lenses included but Proflex lenses are available here:
https://paintballretro.com/search?q=proflex+lens