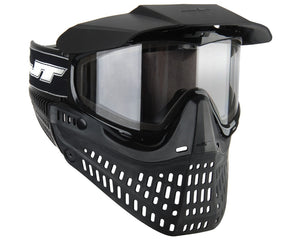 Black JT Proshield. Please read the description. This is not a Proflex. 
Includes clear thermal lens, chinstrap, visor, and goggle bag.

Hard plastic facemask, ears and visor. All parts compatible with Proflex. 
Simply one of the most popular and upgradable masks in the world. Used by recreational players and new players alike all over the world for decades. New version that looks more like the iconic Proflex only with harder plastic.
If you buy this and then complain that it's hard, then you're a dummy. It's supposed to be hard. It's not a Proflex.