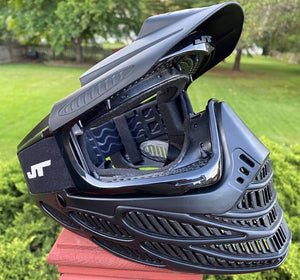 Shipping daily! Only available on PBretro.com
We have a limited quantity of the exclusive new Blackout Flex 8. These are uncut with a black frame (that will also fit on a Proflex), chin-strap, uncut forehead protection, strap and a visor. These do not come with a lens. Do not use before a qualified person installs a brand new Spectra lens. 
Don't forget to add the new Flex 8 soft ears: 
Large
Small
These do not come with a lens included but Proflex lenses are available here:
https://paintballretro.com/search?q=proflex+lens
This is the first time all-black Flex 8's have been available to everyone. More than 99% of all black Flex 8's out in the wild have actually been colored by players. These were made black from the factory and we can't wait to see your builds!
500 were made in this run. 
JT's exclusive" dual-fusion" technology has helped us produce a revolutionary exoskeleton that can be found in our Flex-8™ system. This system offers integrated venting on the jaw which has also been strategically designed to encourage deflections and bounces. While the JT Spectra™ Flex-8™ offers a "smaller target" to your opponent than previous Spectra systems, the Flex-8™ goggle still maintains its ability to accept the Vortex II™ fan and other popular JT accessories. 
F8's are hard plastic, not like the rubber Proflex or even the original Flex 8's from 15 years ago. 
Comes without a retail box.